Investorium.tv Live Investment Presentations
Gold and Copper: The Next Big One

Copper Gold Cambodia as a new company with a BIG target. The company is developing a large potential Tier One deposit in the centre of Cambodia.

Overview

The Royal Exchange, Sydney
Map >> Here
Date:
Thursday, September 5, 2019

Event Schedule

---

Introduction

Time: 17:00 - 17:10
Tim Mckinnon will Formerly open the presentation.

---

Q&A Session

Time: 18:05 - 18:10
5 minute Question and Answer Session. Participation by Audience using Remote electronic handsets. Tabulated responses displayed on the Stage Screen.

---

Dining - A La Carte Service to the Tables

Time: 19:10 - 20:00
A great selection of food and wine, and of course premium beer, will be served to tables. Bar service is also open for those who prefer to move around during the break.

---

Networking and Pre-arranged Meetings

Time: 19:30 - 23:59
This is an opportunity to interact directly with Investors, Brokers, Analysts and Company Executives. Networking continues until closing.

INVESTORIUM Picture Gallery
View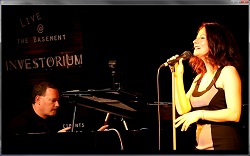 Next Live Web Stream on Thursday, September 5, 2019 is Gold and Copper: The Next Big One
Click here
---
Quotes

New York | October Golden Opportunity

- "The evening was handled very professionally with a real variety in the audience. The part we have liked the best is that it doesn't end in the room that night. We have continued to receive inquiries from people that have viewed our presentation online."
David Kalenuik - President Lake Victoria Mining Co Inc.

Investorium.tv | November Energy

- "A good night of presentations last night, and a credit to the team on its organisation."
Lawrence Grech - Austock Securities

- "I'll be watching ... Currently in the London office."
Simon Curran - International Resource Journal

- "Thank you for putting on another great evening and look forward to the next one."
Paul Hopkins - Oakvale Capital

- "Fantastic presentation ...well done!!"
Nicholas King - BRICIT Hedge Fund

- "Great stuff. Excellent event and follow through. Well done."
Mark Freeman - Grand Gulf Energy

- "Thanks very much for a well organised and enjoyable event. We have quite a lot of buying interest as a result."
Mark Paton - CUE Energy

Investorium.tv | October Golden Opportunity

- "An excellent format and an interested set of members. Enjoyed the night and found it very helpful"
Peter Temby - Botswana Metals

- "Another great event and a continuing source of opportunity.."
Kingsley Jones - Jevons Global

- "Another great night"
John Tims - Phoenix Green Capital

- "Once again, many thanks for hosting an excellent event and please keep us in mind for future events."
Thomas Abraham-James - Platina Resources

- "Very well organised event. Quite the team you have put together there!"
Hugh Minson - Proto Resources

- "This is the first of these that we have attended and I was impressed."
Val Lorenzelli - Finlease (Aust)

Investorium.tv | September Resources and Energy

- "It was a good night and you are to be congratulated on running this event so well."
Marcus Flis MD Royal Resources

Investorium - Energy

- "Thanks for putting on another great event last night."
Stuart Anderson - Sydney Capital Partners

- "Congratulations. I think it is an excellent initiative that will grow to become very successful."
Eddie Grieve - Australian Securities Exchange

Investorium - Multi Commodity

- "It was a most enjoyable and, for me, productive format, and I hope that your initiative is encouraged by its success. Thanks for including DNi in the program."
Russell Debney - CEO Direct Nickel

- "Thanks for the chance to present last night. The whole evening was a great success."
Cliff Atkinson - CEO Phoenix Green Corporation

- "Presentations, venue & ambience were top notch!"
Carlos Crowley Vazquez - Origin Capital Group

- "I'm fairly certain that at no time in history was a new way of doing things not scoffed at by some - sometimes many. You pulled it off brilliantly!"
Brian Carlton - TripleM

- "We've had more than 10 meetings arising from the event..."
Ian Levy - CEO Australian Bauxite Limited

- "It's a brilliant venue, great food, very cute technology and I am really pleased to be one of the inaugural speakers."
Graeme Deegan - GM Zamia Metals

- "I watched the night on streaming video from Beijing with some Chinese investors. As a result they are looking at investing in Queensland Mines and a site visit."
Colin Archer - Chairman Phoenix Green Corporation

- "It is very pleasing to see that in Sydney we can host this kind of event"
Stephen Promnitz - CEO Indochine Mining Limited

- "This is also an opportunity for Asian parties to invest in stories they see here on Investorium.tv"
Julian Malnic - Chairman Sydney Mining Club
---